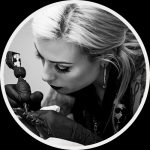 Månadens sponsrade artist – Jenna Kerr
april 3, 2018

april 3, 2018

se

https://www.killerinktattoo.se/skin/frontend/killer/default/images/logo.svg

https://www.killerinktattoo.se/
Jenna Kerr är en av Storbritanniens bästa tatueringsartister och hon är känd för sina otroliga 'ornamental' tatueringar. Hon får fler och fler anhängare varje år med hjälp av sin kroppskonst.
Sedan hon började tatuera 2009 har Jenna arbetat på Devil in the Detail tatueringsstudio, vilken är baserad i Stoke-on-Trent, Storbritannien.
Jenna Kerr har inga problem att arbeta med olika stilar, men hon är mest känd för sina fantastiska 'ornamental' tatueringar, som innehåller kristaller, ädelstenar, blommor och filigran.
Jennas popularitet nådde nya höjder förra året när många konstfokuserade sociala medier visade hennes arbete i sina videor, vilket gav henne många nya fans.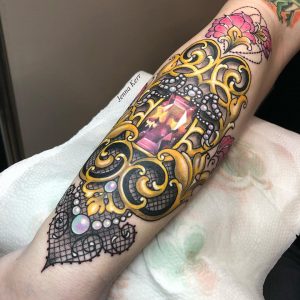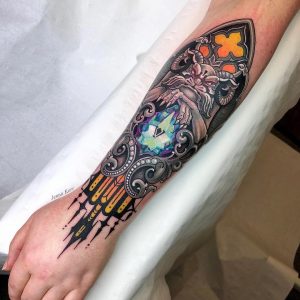 Det verkar också som att domare vid tatueringsmässor älskar hennes arbete, då Jenna plockat upp många priser under det senaste året.
Dessa inkluderar 'Best Collaboration' och 'Best Ornamental' med Ryan 'The Scientist' Smith på 2017 Cezanne Tattoo Convention och '3rd Best of Show' på 2017 London Tattoo Convention för ett samarbete hon gjorde med Ryan och Jay Freestyle.
Vad gäller samarbeten, var Jenna Kerr en av sex artister att delta i den första upplagan av Kaos Theory Project på NR Studios i London, vilket filmades av Killer Ink Tattoo. De sponsrade artisterna Ryan och Jay deltog också i den veckolånga händelsen.
Jenna använder en mängd olika Killer Ink Tattoo tillbehör för att skapa sina fantastiska 'ornamental' tatueringar. Dessa inkluderar Inkjecta maskiner, World Famous Ink, Dermalize PRO och Stencil Forte.
För att se mer Jenna Kerrs otroliga arbete, kolla in hennes Facebook, Instagram och Twitter!