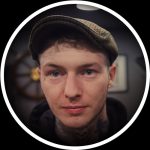 Luke Sayer Intervju
Maj 16, 2019

Maj 16, 2019

se

https://www.killerinktattoo.se/skin/frontend/killer/default/images/logo.svg

https://www.killerinktattoo.se/
Luke Sayer har byggt upp ett bra rykte och många följare under åren med sina realistiska svarta och gråa tatueringar. Nu är det vår tur at sätta honom under rampljuset för vår senaste intervju.
Vi pratade med Luke om allt som handlar om tatueringar, inklusive hur han lyckades vinna den första upplagan av E4s Tattoo of Artist of the Year under 2017.
Kolla in det!
Luke Sayer, en Killer Ink Sponsored månadens artist, arbetar för närvarande på sin egen tatueringsstudio i Milnthorpe, Cumbria, där vi filmade detta.
Se till att hålla dig uppdaterad med hans senaste projekt genom att följa honom på Facebook, Instagram och Twitter!