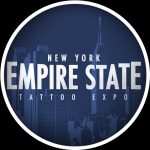 Hustle Butter Deluxe - New York Empire State Tattoo Expo 2019
augusti 22, 2019

augusti 22, 2019

se

https://www.killerinktattoo.se/skin/frontend/killer/default/images/logo.svg

https://www.killerinktattoo.se/
Vi drog till New York Empire State Tattoo Expo 2019 för att filma vår senaste video med supreme Hustler och M.C. Richie Bulldog och Hustle Butter Deluxe!
Medan vi var i New York filmade vi några av världens bästa tatueringsartister när de arbetade med otroliga tatueringar med hjälp av Hustle Butter Deluxes sortiment av tatueringsprodukter.
Kolla in videon nedan!
2019 New York Empire State Tattoo Expo visade sig vara ännu ett otroligt evenemang med utmärkta tatueringsartister, informativa seminarier och en hel del "hustling"!
En speciell hälsning går även ut till den Killer Ink sponsrade artisten Igor Mitrenga som kammade hem 'Best of Show' med en fantastisk tatuering som han gjorde i samarbete med kollegan och Hustle Butter Deluxe pro artisten Levgen Knysh!
You can't knock the hustle!